Construction of the 220 kV Cable Line for 3 Reserve Auxiliary Needs Transformers with Reconstruction of Bay No. 27 of 220 kV Switchyard of Nyzhnovartovsk GRES (City District Power Plant)
Разработка проектно-сметной документации для нового строительства и реконструкции действующих энергетических объектов и гражданского строительства
Construction of the 220 kV Cable Line for 3 Reserve Auxiliary Needs Transformers with Reconstruction of Bay No. 27 of 220 kV Switchyard of Nyzhnovartovsk GRES (City District Power Plant)
220 kV
The object location: Izluchinsk vil, Nyzhnovartovsk district, Tyumen region, Khanty-Mansiisk Autonomous District, RF.
The Customer: Nyzhnovartovsk GRES.
Designing Stages:
Conceptual design documentation.

Detailed design documentation.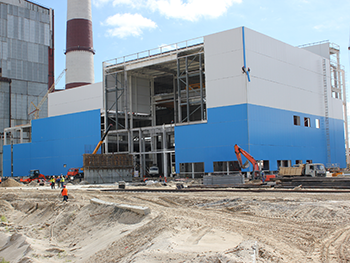 The Project Technical-Economic Indices
Rated voltage, kV - 220.
Power transfer, MV·А - 32.
Circuit quantity, pc - 1.
Cable line length, m - 760.
Switchyard bays quantity, pc - 1.
Auxiliary needs electric power consumption:
- Winter time-period, kW∙h - 116800
- Summer time-period, kW∙h - 17520.
Construction time period, months - 6.5.
Brief Description of Main Solutions
The cable line is intended for the reserve auxiliary needs transformer No.3 of Nizhnevartovsk GRES, which is to be connected to the 220 kV switchyard.
The reserve transformer is three-phase, double winding, with LV split winding of the ТРДНС 32000/220 type, 220/6.3-6.3 kV voltage, 32 МВ·А capacity, with the on-load transformer control.
With the aim to connect the reserve transformer to the 220 kV switchyard provided for is to construct the 220 kV indoor GIS with SF6 bays, with the 220 kV disconnectors.