The main design tools are AVEVA software products – PDMS and E3D, as well as Autodesk Revit.
3D design technology allows to interactively create a 3D model of complex facilities, thus facilitating collision checking at the design stage and significantly increasing the quality of the design documentation produced.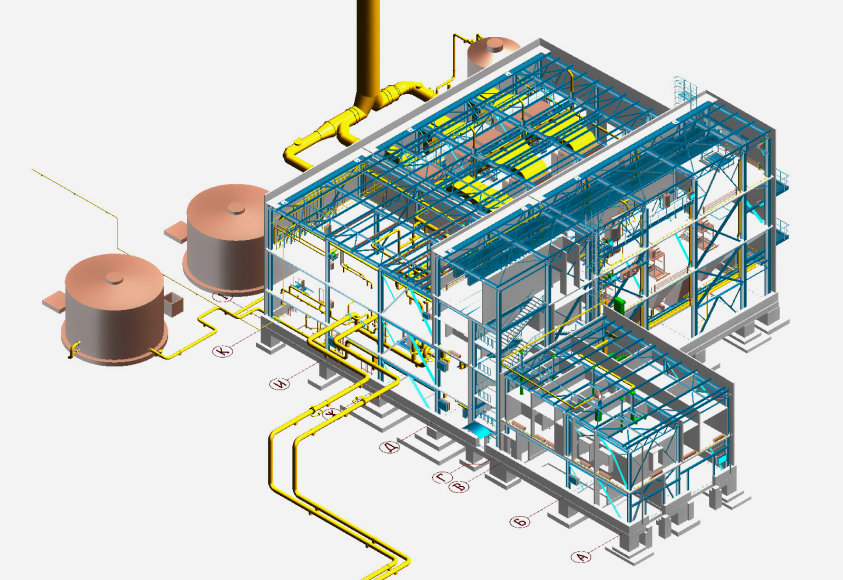 Design time frame can be reduced by automating typical design tasks and using databases of typical elements: pipeline parts, metal structures, heating and ventilation system parts, supports and suspensions etc. In addition, a reduction in the term is achieved by automating the release of detailed design drawings. Deliverables are generated directly from the model database as drawings, pipeline isometric drawings and reports. All information in the drawings is automatically changed if there is any change in the model. The system provides detailed check of the model data integrity, as well as automatic control and management of collisions, improving the quality of the drawings and eliminating possible collisions during the construction phase.
In addition, a lot of specialized software products are used in the design process, allowing:
to optimize thermal schemes of power plants
to select diameters and analyze the strength of pipelines
to calculate and select thermal insulation
to cover the whole range of calculated electrical engineering tasks, automatically lay out cables
to carry out calculations of various building structures
to carry out calculations of heating, refrigeration, ventilation systems
to analyze the economic efficiency of the project as a whole
etc.
(a total of more than 50 software products).