Actobe Rail & Mill Works of 430 Thousand Tons Design Capacity of the Rolled Metal Products per Year. Gas Piston Power Plant
Разработка проектно-сметной документации для нового строительства и реконструкции действующих энергетических объектов и гражданского строительства
Actobe Rail & Mill Works of 430 Thousand Tons Design Capacity of the Rolled Metal Products per Year. Gas Piston Power Plant
2015
9730 kV
The object location: Aviagorodok str., 40, Actobe town, Kazakhstan.
The Customer: LLC JV «Soyuzkomplekt».
Designing Stages:
Conceptual design documentation.

Detailed design documentation.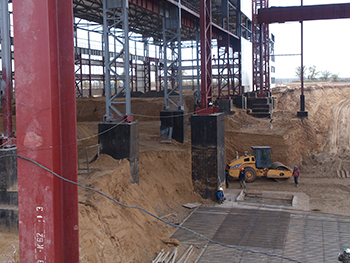 The Project Technical-Economic Indices
Gas piston electric power plant - Wartsila 20V34SG.
Electric power plant capacity, kW - 9730.
Quantity of sets, pcs - 4.
Annual electric power production, mln kW – 311.36.
Annual natural gas consumption, thousand nm3 - 70658.718.
Service water consumption, m3/h - 0.041.
Household & potable water consumption, m3/day - 7.403.
Propylene glycol consumption, m3/h – 0.12.
Oil consumption (type SAE 40), g/ kWh - 0.5.
Total area, hа - 1.21.
Building density coefficient, % - 27.
Brief Description of Main Solutions
The required construction of the rail & mill works in Actobe of the 430 thousand tons design capacity of the rolled metal products per year has been substantiated by the necessity of the Kazakhstan Republic and CIS countries of the rails of 120 m length for high-velocity main lines.
For the reason, that the Actobe region is the power deficit area, as well as with the aim to reduce the rolled products production expenses, with the aim to ensure the electric power for the rail & mill works, provided for is the construction of the as-piston power plant of the 38 920 kW installed electric capacity.
List of main buildings (objects):
Main building

Electric equipment room for heating and ventilation systems

Gas distribution plant

Chimney

Air cooling plant

Oil facilities

Start diesel-generator

Combined auxiliary building

Cooling system makeup water tank

Cooling system makeup water pumping station

Control post

Trestle for process pipes.
The main equipment of gas piston electric power plant - Gas piston turbine-generator sets Wartsila 20V34SG – 4 pcs.
The object construction was completed in 2015.