The «Workshop Building of Special Reinforced Concrete Parts and Metal Structures» for Condenser Modules Storage
Разработка проектно-сметной документации для нового строительства и реконструкции действующих энергетических объектов и гражданского строительства
The «Workshop Building of Special Reinforced Concrete Parts and Metal Structures» for Condenser Modules Storage
The object location: Kalininskaya NPP, RF, in the Tver region north, 330 km far from Moscow and 400 km far from St.Petersburg.
The Customer: JCS «Concern Rosenergoatom», branch «Kalininskaya Nuclear Power Plant».
Designing Stages:
Detailed design documentation.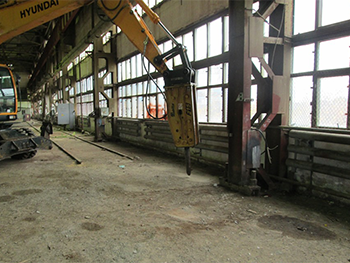 The Project Technical-Economic Indices
The skeleton-type reinforced concrete building. Dimensions 49х192 m, height 16.3 m, area 9222.8 m2.
Brief Description of Main Solutions
The change of the premises functional designation, reconstruction of the shop for manufacturing the special reinforced concrete parts and metal structures into the storage premise for the condenser modules storage.
The building modernization task is to ensure the equipment and premises storage and protection against negative ambient impact.
The building is heated, lighted, ventilated.